May 21, 2009 at 4:08 pm
By Dan Mooney •   May 21, 2009
K.S. Liew has a clear picture of where he wants the Jadi Imaging Group of Companies to eventually land in the aftermarket landscape.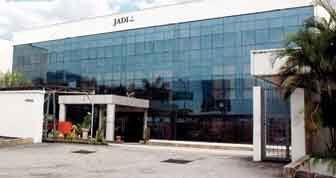 "Our vision is to be the biggest independent toner manufacturer in the world by 2015," said Liew, executive chairman and group CEO of Jadi. "With our globally competitive high-quality products, we are optimistic that we can further expand our operations and achieve our vision."
Jadi has set its course to bigger things with acquisitions, growth and extensive R&D work.
Helped formed by Liew, Jadi got its start as a joint-venture company in 1992 called Technitone to produce toner. In 1999, Liew incorporated Jadi, acquired Technitone's assets and took over the business.
The Jadi Imaging Group of Companies comprises the following: Jadi Imaging Holdings Berhad (JIHB), the holding company which is listed on the Malaysian stock exchange; Jadi Imaging Technologies Sdn. Bhd. (JITSB), a wholly-owned subsidiary of JIHB, which manufactures black toner in Malaysia; Jadi Imaging Technologies Co. Ltd., a wholly-owned subsidiary of JIHB, which manufactures black toner in China; Jadi Imaging Solutions Sdn. Bhd., a wholly-owned subsidiary of JITSB, which manufactures color toner in Malaysia and Jadi Imaging Supplies Inc., a wholly-owned subsidiary of JIHB and a sales and distribution company in the United States.
Earlier this year, the group was running six production lines, with an annual production capacity of 5,400 metric tons. In 2008, Jadi produced just over 3,000 tons of black and color toner. Jadi has looked to bolster production and efficiency by investing in automated material handling and centralized dust collection systems in its factories.
"If we acquire a sizable competitor and continue growth, we could easily push up our production capacity to more than 12,000 (metric tons) by 2015," Liew said. "At that point in time we could claim the biggest in terms of production capacity."
Color capacity for Jadi is about 500 metric tons. Earlier this year, the company was running at about 60 percent capacity for color, though that figure is expected to increase since Jadi's second color line has only been up and running since last summer.
Reaching that goal starts in the suburbs of Kuala Lumpur, Malaysia, where Jadi's main factory and headquarters are located. Across the road is Jadi's R&D center and another manufacturing facility.
Jadi is also expanding its reach in the Kuala Lumpur area, where a 260,000-square-foot piece of land was purchased near Port Klang, a thriving Malaysian port. A warehouse and an R&D center for Jadi's chemically produced toner work will occupy the area.
In China, Jadi moved into a new factory this year in Suzhou. The factory, with one line, produces black toner for the Chinese market.
Jadi has approximately 187 employees, about 150 of which are based in Malaysia. Eleven of those employees are in research, where Jadi is pushing a large agenda.
Jadi allocates 3 percent of its revenue each year to R&D.
"Our biggest advances in R&D have enabled us to formulate, develop and manufacture color toner as well as the high-value black toner," Liew said. "In addition, among our ongoing R&D projects is a joint project on chemically produced toner, which we are conducting with the chemistry department of the University of Malaya, the premier university in Malaysia."
Liew said the company is in the process of designing and fabricating its own CPT line. "We're looking to scale that up by the end of this year," Liew said.
The company has channeled its attention to R&D to fuel its growth in responding to what Liew calls a "technically more complex market." Jadi is conducting more technical training.
"We conduct both independent research as well as joint research with our strategic partners," Liew said. "Our ongoing R&D focuses on both developing new and higher-quality products to meet the constantly changing and exacting demands of the industry; and also on improving the quality of our existing products, including identifying alternative raw materials to bring down the cost of these products or meet the specific requirements of different segments of the market."
Jadi, which is the lone toner manufacturer in Malaysia, holds ISO 9001:2000 certification. In the past, Jadi has been honored as an Enterprise 50 Award winner, which honors companies that are crucial in Malaysia's economy.
"We have also succeeded because of our commitment to providing consistently high-quality products and services that meet or exceed the expectations of our worldwide customers," Liew said. "Our proactive approach in engaging in regular dialogues, including technical discussions with our customers, has enabled us to better understand the needs of the market in general and our customers in particular."
Jadi calls itself the biggest toner producer in Southeast Asia.
The company exports more than 90 percent of its toners to more than 50 countries, including those in Asia, Africa, the Middle East, South America, Europe and the United States. Approximately 65 percent of Jadi's toner is shipped to Asian markets.
Liew, who completed his higher education in the United Kingdom, was a copy machine salesman in the late 1970s. In 1984, he founded Office Business Systems Sdn. Bhd., a company that remanufactured, sold and serviced copiers.
"We became the biggest distributor of reconditioned copiers in Malaysia and we consumed a lot of toners ourselves," said Liew, relating how he got his start in the toner business. "In 1990, I considered making toner ourselves because at that point toner was hard to come by."
The company eventually bought toner technology from a Swiss company and expanded its business.
Liew oversees a company management philosophy that includes enhancing shareholder value, adhering to good governance practices, a commitment to quality and investing in R&D.
Liew mainly though points to employees as being Jadi's backbone.
"We believe our employees are our biggest asset as their skills and collective contributions are critical to the success of our company," Liew said. "We practice an open management style to encourage honest and effective communications among our employees and seek opportunities to allow our employees to continue to enhance their knowledge, skills and creativity. We seek dedication and loyalty from all our employees to enhance our competitive position in the industry."
Liew commented on the high degree of knowledge at Jadi, including much staff expertise in the remanufacturing of cartridges. Though the company has no plans to go into that side of the aftermarket, it has conducted cartridge-remanufacturing training for customers in Malaysia, Vietnam, China and India and aims to eventually expand that training to other customers.
Expansion beyond its current framework is clearly on Jadi's to-do list.
"Besides the organic growth we've been undertaking the past few years, we are possibly looking at some more acquisitions, which we believe will happen in the next couple years because there are a lot of cheap assets for sale out there and they get cheaper by the day," Liew said.
In Malay, one of the meanings of Jadi is "succeed." Even in rough economic times, the company is doing just that.
"While the economy is tight and challenging, we are still pretty optimistic with our own growth because we feel we have the competitive edge to compete and also take some market from our competitors," Liew said.
Source: Recharger Magazine, June 2009 edition.